Fluke 190-202 Scopemeter Series II Repair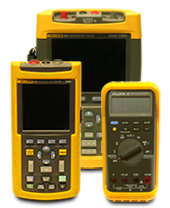 Common issues:
Will not power on
Only beeps when power button is pressed
Battery will not charge
Scope input channels inoperative
No waveform showing on channel A or B
Solid line on channel A or B
Errors during calibration
Some scope or meter functions unavailable
Keypad buttons don't work or are unresponsive
Typical Repair Cost Range: $950 - $1,545*
* Based on previous repairs; actual cost will be quoted after unit evaluation and may be more or less
How To Request Repair
Tell us what is wrong with the instrument and who to contact by doing one of the following:
Ship the unit to us using your choice of carrier. Our shipping address depends on what model you are sending and will be shown on the confirmation e-mail.
We will diagnose the problem and send you a formal quote for repair.
Repair Request Form
Reminder: we are not accepting any repair requests for Fluke Scopemeters, multimeters, or process meters during the month of December, 2023. Repairs of Fluke calibrators (5520A, 5700A, 9100, etc.) and orders for parts and accessories will continue to be processed normally.
Unit Information Problem Description
* If your instrument's model is not listed, please note it above and
CONTACT US
for support options.
Contact Information
Additional Information
What's next?
After submitting the form above, you will receive an e-mail confirmation with shipping instructions. Ship your unit to our receiving address:

ScopemeterRepair.com, LLC
5641 Broyles Rd
Hartville, MO 65667
United States
Payment
No payment is due until all services are completed and the unit is ready to ship. We accept all major credit cards on our website and over the phone, PayPal, and checks or money orders.
Turnaround Time
Turnaround time is typically 5-10 business days but is workload-dependent and may vary. If you require immediate service,
CONTACT US
to let us know your requirements. We also offer 24-, 48-, and 72-hour turnaround times for most models for an additional fee.